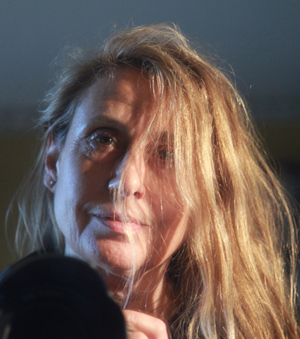 Alita Baldi,
Born in Buenos Aires, Alita Baldi leaves Argentina for Paris where she studies theatre and fine art. She makes her debut as an actress in a production by Jorge Lavelli at the Avignon Festival in one of thefirst major successes of musical theatre in France - « Orden » by Pierre Bourgade and Girolamo Arrigo, she then acts in Molière, in a comedy produced by Stephan Meldegg and Claudel with Victor Garcia.
But very soon her interest turns to directing and she enters the Paris Opera as assistant director and works with, among others, Giorgio Strehler, Luca Ronconi, Liliana Cavani, Jérôme Savary, Ruth Berghaus and Jorge Lavelli.
Intensely enthusiastic about music and theatre, her first natural inclination is to become involved in creating musical performances. Among works from the lyrical repertory she directs Haydn's "L'Anima del Filosofo ossia Orfeo e Euridice" conducted by Jean-Claude Malgoire, Weill's Mahagonny Songspiel" and Ullmann's "Kaiser von Atlantis" in the Théâtre Déjazet in Paris, Bizet's « Carmen »
at the Grand Théâtre in Bordeaux ,conducted by Alain Lombard, she then produces Handel's
« Hercules » for both the Atelier Lyrique de Turcoing and for the Montpellier Opera, where it is conduted by Jean-Claude Malgoire ; then Bellini's «I Capuletti e i Montecchi » at the Teatro San Carlos in Lisbon, conducted by Maurizio Benini; she also directs Vivaldi's « Juditha Triumphans » for the Lille Opera, in a production conducted by by Jean-Claude Malgoire, which is filmed for Arte.
In 2000, in collaboration with the Argentine composer Oscar Strasnoy,
Alita Baldi creates « EPHEMERA » , a commission by Radio France and the Musée d'Orsay. With Andrea Cohen she creates, to music by Cage, Kagel and Satie, »Piano(d)rame » ,a show involving theatre, music, painting and performance, and which is performed at the Déjazet and at the Café de la Danse in Paris.
Also credited to her is the creation of « Zarzuela, historia de un patio » a musical performance based on Spanish lyrical works, a show put on for the Avignon Festival and produced by Alain Maratrat.
For Radio France she produces Britten's « Golden Vanity » with the children's choir of the Maîtrise de Radio France.
Creating for the theatre involves her in discovering modern writers and also, sometimes, in adapting literary works for the stage which she is specially fond of, amongst which figure « Palais Brûlés » and « Voilà la tête voilà le tronc voilà les ailes » by the Turkish author Sevim Burak ; « La Venexiana » a sixteenth century anonymous Venetian work ; « Une Autre histoire de Paradis « from stories by Isaac Bashevis Singer, and in 2005 « La femme au petit renard » from the short story by Violette Leduc, for the Avignon (Off ) Festival.
She produces Mozart's « Cosi fan tutte » with the young singers of the Paris Opera's Centre de Formation Lyrique, at the Amphithéâtre at the Bastille Opera and at the Chorégies d'Orange, a Mozart workshop at the Studio Bastille and with them she creates and produces in 2004 « Amar y soñar, balade dans une Espagne imaginaire » at the Amphithéâtre at the Bastille Opera.